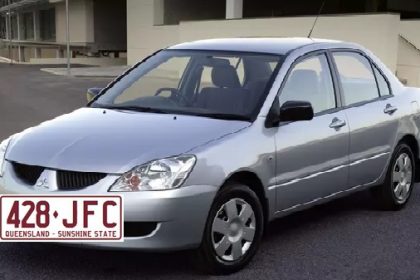 Car stolen while owner three metres away, South Mackay
The owner of a silver coloured 2005 model Mitsubishi Lancer registration number 428 JFC has had her car stolen today while she was standing three metres away hugging her daughter.
The victim started her car and drove it a short distance in front of the home driveway in Pirie Street, South Mackay. The car was being moved so that the victim's daughter could move her car out of the driveway. She has then hopped out of the car, leaving it running, while she moved to the rear of her car to hug her daughter.
As she gave her daughter a hug – she heard her vehicle rev loudly, and watched it driven away by a thief.
The image above does not depict the actual stolen car – but displays a similar colouring, make and model.  If you have any information about the current location of this stolen car, please report it to the Mackay police station on 0749 683 444 or you can contact Crime  Stoppers on 1800 333 000.  The police report number to refer to is QP1701914322.
I am not sure that I have seen a more suitable set of circumstances to describe the words – opportunistic crime! The car thief in this matter was simply in the right place at the right time.
Shortly after the car was stolen it's alleged it was driven to a local service station in Paget where it also became involved a fuel drive-off offence.
If you have information for police, contact Policelink on 131 444 or provide information using the online form 24hrs per day.
You can report information about crime anonymously to Crime Stoppers, a registered charity and community volunteer organisation, by calling 1800 333 000 or via crimestoppersqld.com.au 24hrs per day.
Source: Mackay Crime Alert